Terry Fallis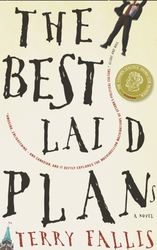 And Terry Fallis just keeps amazing us all. Since posting this, he beat out marquee names like William Gibson and Margaret Atwood to make the final cut for this year's Canada Reads panel.
Publishers love to blame the Internet for their declining business but the success of Terry Fallis suggests that the real problem is that they no longer offer the service that used to be their stock-in-trade – finding good books, and getting them to readers.
I wrote about Terry, who is something of legend in Canadian literary circles for doing an end-run around those out-of-date gatekeepers. He took his first book, The Best Laid Plans, directly to the audience after he failed to get so much as a rejection letter from the professionals. He promoted it via free weekly chapter-by-chapter podcasts and self-published books.
Fifteen hundred copies and one Leacock Medal win later, McClelland and Stewart decided he might just be worth adding to their roster. His bestselling first novel then sold 10,000 copies.
- Read more