Stampede Queen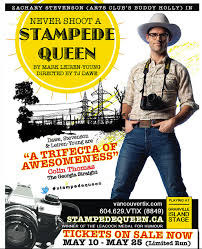 My old pal Mark Leiren-Young and I debate the issue of tweet seats in theatres over at the Tyee this month -- he's for it, I'm against -- and it highlights how we're all still figuring out how to use the new technology.
"But I got the idea for doing tweet-seats from YOU!" Mark said, after I protested against him inviting the Twitterati into a mainstream Vancouver theatre.
Sure enough, I checked my blog and there it was, a year ago: me noting that tweet seats are a form of free advertising, and the performing arts should just get with the program.
Clearly the many artistic directors protesting the latest trend had thought it through better than I.
- Read more