Quelemia Sparrow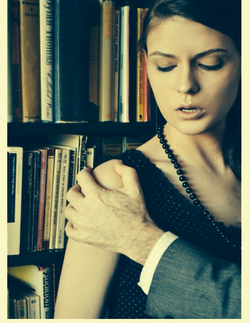 oleannaThe Mamet on Main collective's production of Oleanna has turned the controversial two-hander about the clash of power and gender politics into a thrilling three-hander. The audience functions like a subtle Greek chorus in the confines of the Little Mountain Gallery theatre.
And I'm so sorry you'll never see it. The last show is on Sunday night. Maybe you can bribe someone to hand over his reservation?
The 50-seat theatre-in-the-round setting puts the audience in that claustrophobic office with the professor and his female student and the show pulls some of its energy from us.
When the vile professor says he loves teaching, you can hear a skeptical chuckle. When the action turns angry, there's a gasp. And throughout the intense 80 minutes you can feel sympathies shifting from teacher-to-student and back again as David Mamet's carefully weighted script reveals fact-after-damning-fact about both characters.
RATS IN A BAG
This production made me see the play differently. Director Quelemia Sparrow draws out the nuance in the 22-year-old text, which has a reputation for misogyny. Many (most?) versions pit the feminist student against the male professor and make him the victim of political correctness. That's not what we see here.
John and Carol are more like a couple of rats in a bag. Vicious, sure. But it's not personal or political; it's their nature. The play becomes less about political fashions than about power and its abuses. The real villains of the piece are the institutions on both sides of the debate that grant some people the power to turn their self-serving whims into law.
- Read more