online radio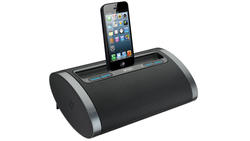 For decades now I've dismissed the pundits predicting the death of broadcast radio, or as they call it "terrestrial radio." Until this morning that is. On demand radio just killed terrestrial radio in my house.
I've always been a radio listener, particularly on Sunday mornings. But this morning I flicked on my kitchen radio only to be met with a CBC documentary I'd already heard. In another era I might have surfed the dial. But the commercial radio offerings are so bad as to have reached the point my broadcasting instructors called "unlistenable." An ugly mix of artificially loud professional voices, dumb talk, idiot call-in shows, and/or cheezy music, all sandwiched between dense walls of commercials. I haven't listened to commercial radio in decades.
FIRE-UP THE iTHINGY
Instead, I fired up my iPad with an external speaker and listened online. First I caught the CBC national news and The Current podcasts I'd missed. Then I switched to a series of BBC and NPR public affairs podcasts to catch up on the international news. Then I moved on to some of my favourite indie podcasts.
I wanted a second listen of the final episode of Serial. Unlike the reporter Sarah Koenig, I do think Adnan is entirely innocent. You can't manage that kind of strangling murder and bury the body in a forest without some sort of physical evidence tying you to the body.
NPR's Pop Culture Happy Hour always makes me laugh and their offbeat recommendations for the stuff making them happy this week – books, websites, other podcasts, music, journalism – are often great finds.
Then I caught up on Criminal, a podcast about quirky crimes and criminology by some moonlighting radio reporters who do superb research. I'm interested in journalism so I also listened to podcasts on national and American media issues with The Pub and On the Media.