newspapers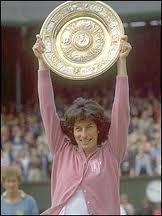 I was gobsmacked earlier this month to see the British papers all trumpeting the fact that Andy Murray was the first Brit to win Wimbledon in 77 years. And I was even more astounded to see other media merely repeating them. As a New York-based blogger Chloe Angyal noted on Twitter, "Murray is indeed the first Brit to win Wimbledon in 77 years, unless you think women are people."
Virginia Wade took the prize in 1977, which ought to have been general knowledge for sports reporters. But it speaks to a sort of contempt they show for their readers (and their craft) all the while trying to persuade us that we really want to pay for what's behind their digital walls.
As I point out in Salon, this is why the readers that advertisers have always wanted most – well-educated women – have been running, screaming for the last 30 years.
So the next time some newspaper CEO blames the Internet for killing newspapers, someone might just want to point out that that for anyone who has been paying attention, it looks more like a case of suicide. - Read more
News of a U.K. government study that claims women are less informed than men about current affairs, particularly in liberal, egalitarian western countries, has been making the rounds, much to the irritation of my female friends and colleagues.
- Read more