journalism students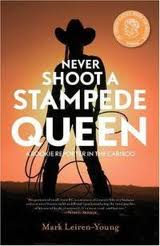 Would-be journos often ask what they should read to get a feel for the business and I always point to Never Shoot a Stampede Queen. Mark Leiren-Young's memoir of his first year as a reporter in B.C.'s Cariboo region won the 2009 Leacock Medal for humour, and it's a great primer on what it's really like to be a reporter. It belongs on the reading list at every school for ink-stained-wretches.
Mark's year at the Williams Lake Tribune was a news junkie's dream. While his pals interning on the big city dailies were assigned to cover that 65th wedding anniversary in the 'burbs, he was in cowboy country covering multiple homicides, train wrecks, and a court case involving a bomb-toting defendant.
Of course, he learned one sorry truth of the news business. You'll never get as much (hostile) attention for your work as when you run an unflattering photo of the local beauty queen.
- Read more