I'll see you in my dreams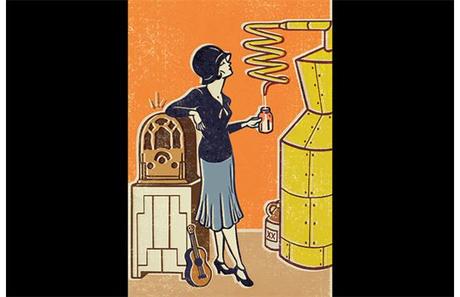 Are we reliving the 1920s and '30s all over again? I suspect so, and I wrote a think piece -- Awash in Nostalgia and Moonshine -- about our weird society-wide fetish for that era, at Swerve magazine last week.
I've long had vintage tastes, and at 20 I could quote Cole Porter lyrics along with the Clash, but I thought it was odd when the rest of the world began to share my enthusiasm. Oh sure, the period from roughly 1912 to 1940 delivered innovative dance, brilliant literature, and stylish clothes. Not to mention a roster of great films and ukulele tunes.
And no one in journalism could fail to see the parallels between the explosion of broadcast radio in the 1920s and the growth of the Internet. Even the complaints are the same, as artists grouse about how the new tech gives away their old art form free. (Not so. It's called advertising. And it also began as an industry in the 1920s.)
But I think it's fair to say that we feel just as overwhelmed by technology as our great grandparents who coped with cars, phones, movie palaces, and mass media in the space of a few short years. And I suspect there's also a secret, nagging question at the back of our collective unconscious: given all this technical disruption can another Depression and Nazis be far behind....
No wonder we all have the urge to bring on the moonshine.
By the way, that fabulous illustration for the piece was done by Toronto artist Blair Kelly and you'll find his website here. - Read more