Radio Daze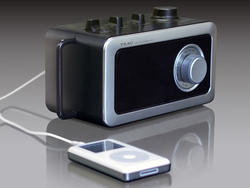 I listen to radio like it's 1935 and I live in London. I'm a big fan of the BBC, which still delivers drama as well as superb coverage on culture with a huge library of beautifully produced podcasts.
But I'm no anglophile snob when it comes to podcasts. I listen to lots of independently produced radio, both professional and hobbyist, and I'm always on the hunt for something new. Which is why I got recommendations from my podcast loving pals for a recent piece on how Canada is a radio nation,
Here are the highlights:
ENTERTAINMENT
Welcome to Night Vale:

it's a quirky kind of radio theatre disguised as a community radio announcements for the fictional desert town of Night Vale. It's a weird little burgh that sounds as if it's uncomfortably close to Roswell.
The Nerdist: Chris Hardwick is a stand-up comic who has long, smart conversations with Hollywood writers, directors, and actors, many of whom are his pals. It's a treasure trove that includes interviews with legendary show runner Joss Whedon (Buffy, Angel, Firefly, SHIELD) who now directs the Avengers film franchise and the surprisingly witty Jaime King. She's a super model turned actress, whose willowy blonde beauty lends itself to playing ditzes (hence my surprise she's not one). She's brilliant as Lemon Breeland on the underrated TV dramedy Hart of Dixie.


The Moth: If you like to listen to storytellers -- people telling stories about the weird things that have happened in their lives -- this is just the show for you.


The New Yorker Fiction Podcast: Short stories by major writers in the magazine's archive, read and discussed by contemporary fiction writers. Don't miss Miele Malloy reading and discussing one of Laurie Colwin's poignant tales.


The Ensemblist: Interviews with performers who work as dancers and singers in the chorus, eight shows a week, on Broadway. A must for Gleeks and their parents.


BBC - World Book Club: Most book podcasts review new books, but this is an interview with well-known authors discussing their best-known book. It let's you know what you have missed and whether it's worth your while to catch up.


Slate Magazine Culture GabFest: All the buzz for this week in pop culture.


CBC - Under the Influence: Terry O'Reilly, a radio ad man, talks about the history, changes, and innovations in the propaganda trades: advertising, PR, and marketing.


NPR - All Songs Considered:

A mix of new tunes from famous musicians and offerings from great, little-known artists. This week, it's the first cut from the New Pornographers long-awaited album and an interview with Hank Williams's granddaughter, Holly Williams.
INDEPENDENTS
TheCommentary.ca: is a labour of love by Vancouver's Joseph Planta, a guy who shares my enthusiasm for radio. He podcasts interviews with authors, politicians, artists and the occasional hack columnist (including me). Some of his guests are local, others international. This is his hobby and he interviews whoever happens to interest him, which means he picks up on some stories mainstream media miss.


Criminal

: if I could pick only one podcast, this would be it. It covers crime-related stories, but not in the sense of true crime -- although there is some of that too. It's full of unexpected tales and surprising information. Sometimes they draw from history. Sometimes it's new research. Or cold cases. There are stories about obsessive book thieves and professional lie detectors and all sorts of things you have never heard about before. If you're new to podcasts it's the perfect first listen.
SURPRISING FACTS
99% Invisible: A podcast about design that's full of information you had no idea you needed to know. Such as, the reason why baseball uniforms look the way they do.


RadioLab: One of the most technically innovative radio shows in the American public radio roster. The show investigates all sorts of things. Blood. Historical events. One of my favourite episodes is #108 Oops, about grand screw-ups.


Grammar Girl: Her views on things like the Oxford comma are a source of much debate among word nerds.


A Way with Words: American public radio's show about the subtleties, psychology, and social history of language. Everything from the meaning behind Medieval surnames to how (and why) accents influence how we perceive someone's intelligence.


Nutrition Diva

: The food and nutrition wars will not end, but this is a good place to begin trying to sort out how and what to eat.
INTERNATIONAL NEWS
BBC -- From Our Own Correspondent: Features about foreign climes from the British point of view. There's a recent documentary on harvesting maple syrup in Canada.


BBC -- Documentaries: Need to know what Putin wants? You'll find the backstory here. Along with a host of docs on current affairs and historical issues. A great place to find context for international news stories.


The New Yorker Political Scene: this week's buzz on American politics and the international scene from the American point of view.


NPR Fresh Air

: This show was inspired by Peter Gzowski's Morningside, and it's both a good listen and an irritating reminder of how CBC radio has been systematically destroyed.
THE HOMEFRONT
CBC radio's mobile app. It contains all the most recent local shows as well as the national stars like Ideas and The Current.