Paywall woes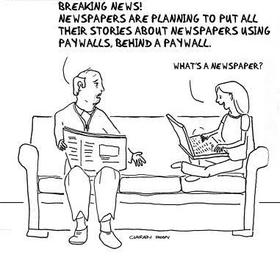 This month the world's most celebrated paywall announced it is coming down slowly and discreetly. Now, the New York Times will tell you it is just the videos that will be available to hoi polloi, but anyone reading the research knows what they're really admitting. Paywalls don't work beyond squeezing a few more cents out of your existing print subscribers. Even worse, they kill your online traffic.
Last week, Digital First's Steve Buttry made a persuasive case for how newspapers need to find new ways of generating revenue. He points out that using paywalls to squeeze more money out of print subscribers is a temporary solution at best. No one likes to put it so bluntly but just like theatre audiences, newspaper readers are greying and dying faster than millennials can replace them.
I take no pleasure in being Cassandra – okay, I take a little pleasure when my crystal ball proves right – but I wrote about Paywall Woes over at TheTyee.ca in March. NYT's financial reports made it obvious that even though their existing print audience loves them enough to pay a little bit more, they're not attracting new (and younger) readers – which is crucial to any enterprise.
Especially since the real business of newspapers has always been selling eyeballs to advertisers. Paywalls make no sense because they exclude eyeballs, and reduce how much you can charge for your ads.
My old pal Marc Edge, a former Province reporter turned professor, disagrees with me and the research I cite. He argued the other view in his piece, Paywalls Work. I'm a big fan of Marc's work – I recommend his fabulous history of the Vancouver Sun-Province, Pacific Press: The Unauthorized Story – but I think he succumbed to what I call journalism bias. The myths in a business that loves to mythologize itself.
As journalists, we want to believe that our work is valuable enough that readers will buy it. And they do. They just can't afford to pay enough to cover the considerable cost of news-gathering. The pittance people paid for print subscriptions may have defrayed the cost of distributing newspapers to the sprawling suburbs, but as one of my old J-skool instructors put it, they didn't even cover the cost of the ink.
It's a simple equation. Advertising pays the freight and advertisers are buying readers. Doing anything to drive readers off amounts to willfully killing your own business.