Obits: Death gives North American newspapers life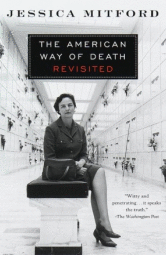 Apparently newspapers are looking to obits as lifesavers. Death notices have proven to be one of the last reliable revenue sources, probably because most people find it tasteless to slap the rellies' demise on Craigslist. Although there's an equally creepy trend to immortalizing people on Facebook death pages. (Deathbook?)
And then there are programs that allow the dead to email long past their demise.
I keep thinking that legendary muckraker Jessica Mitford would have a field day with this. Her sly wit and sophisticated sense of the absurd animated The American Way of Death, the 1963 investigation into the North American death industry that brought legislation to curb their most corrupt practices. What could have been a tedious recitation of facts is actually a hilarious read that stands up almost 50 years later as a testament to the human capacity for both greed and gullibility.
Now Poynter Online reports that the Newspaper Association of America's annual conference is highlighting the need to feature the dead for fiscal reasons. This makes good cynical sense. As the financial planners have long told us, death is a growth industry courtesy of the baby boomers.
At the same time, the beat once considered a punishment for a naughty reporter or a training ground for apprentices has been expanded due to reader interest. Some of the writers have a literary bent, which makes some obits a good read and gives the copy value long beyond its newsworthiness.
This has given some enterprising students at Medill's journalism school a swell idea. They looked at why people read obits – both editorial copy and classified notices – and noted that papers are missing an opportunity that is only partly realized at legacy.com. (The privately-owned site archives obits-of-the-stars from about 900 newspapers.)
Papers, they suggest, should archive their obits of ordinary people in a way that their families might find comforting, searchable (and affordable!) as a lasting legacy. The stories would employ scribes to write up heartwarming tales in a more literate style than the posting culture permits and voila, a new kind of vanity publishing.
Wouldn't Ms. Mitford just roar.