The internet is not a corkboard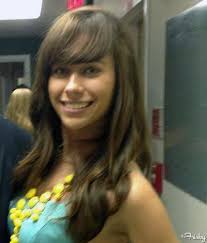 Perhaps the most surprising thing to come out of last week's delightful Deranged Sorority Girl episode of The Internet, was the students' confusion over this whole web communications thing.
Gawker posted the hilarious email anonymously, and it might have all ended after a day or so of snickering and reposting, had the Delta Gammas not demanded their good name be cleared. Loudly. On their (open) Facebook page.
"Someone has to get this taken down," they said, as if they'd never heard of the term gone viral. "It's very embarrassing for us."
Then they went on to publish many amusing details that Gawker was too discreet to run about the University of Maryland chapter, Becca's role in it, and dozens of other things. All of which made it easy for the interwebs to track down Rebecca Martinson, her photos, and her Twitter account. Sadly, that has been deleted. As many readers have noticed, she really does have a way with words. A psychotic, potty-mouthed way, but still.
The Greeks sent messengers all over cyberspace and suddenly the story was bouncing around like braless Double Ds, much to the horror of the innocents of DG. Curiously, they seemed to have no idea they were driving it. So their president stepped up and sent an officious note to Gawker, requesting that the names Delta Gamma and Sigma Nu (the boys' club) be removed for the post because, really, that email "absolutely did not reflect their values."
Hilarity ensued.
Apparently they think the internet is like a corkboard on which someone placed the email, behind a locked glass door. Naturally, given their specialness, all they had to do was send a note to the proper authorities and it would be removed, discreetly.
It's not quite clear how anyone born after 1980 might think this, but I guess that's what they mean when they say they're traditional. Or maybe it's all just a publicity stunt for a soon-to-be-announced reality TV show, C**T PUNT! featuring the LITERALLY fucking AWKWARD girls of DG.
Certainly Becca is just the sort of comic idiot beloved of reality TV producers. And if their online chats are any indication, there's a rich vein of corruption and stupidity to be mined at Delta Gamma. So really, the cyber naifs should stop whinging and give snaps for the opportunities granted by the sorority that also gave the world Ann Coulter