Chinese State Circus features ballet contortionist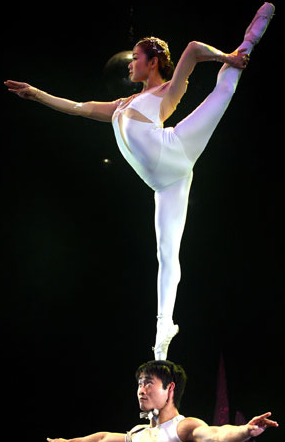 Over at the Village Voice dance critic Deborah Jowitt is wondering if technical tricks are replacing artistry in ballet.
And while I'd like to contemplate this question along with her, I was much too distracted by YouTube videos of things that (20 minutes earlier) I would have said were humanly impossible.
Chiefly the ballet-contortionist at the Chinese State Circus, dancing Swan Lake. She does an arabesque, en pointe, on her partner's head.
It's astounding. She also dances on his shoulders. And it makes all those Odettes/Odiles who spend most of the show on the boards look distinctly second-rate. What's 32 fouettes, even punctuated with double or triple turns, compared with head dancing?