The case for comping tweet monkeys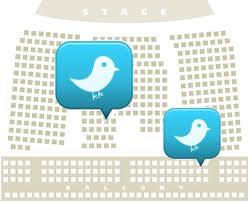 CBC's Q debate over whether theatre patrons should text during the show reflects a general cluelessness about online content. If it's unpaid then it's marketing and promotions so, yes, of course theatres should create a space for tweet monkeys. They labour for free on behalf of the PR department. Just segregate them from patrons who actually want to watch the show sans screen-glare.
If I were directing a theatre company I'd comp a cadre of 20ish tweet monkeys just the way companies drop swag on teen haulers and fashion bloggers. I've long wondered why the arts world, which is forever bemoaning its greying audience, has been so slow to embrace blogging, influencer marketing, and social media. In the quest to get young bums in seats it seems an obvious choice.
And I wouldn't stop at tweet seats. I'd also give the tweeps standing room in the gods where they're less likely to annoy others. Depending on the theatre's wings, you could stick them backstage, where they could snap Instagrams of dancers resining their pointe shoes before bounding on stage. And there must be a little free space in the tech booth where they could regale us with the inevitable techie dramas. Video of the stage manager in action would be entertaining (although possibly actionable).
While it would be savvy marketing to comp-in select influencers to do a little shadow work for the arts, offering tweet seats could also be a money-making move. Charge a premium for these privileged spots that allow the narcissists to do what they really want to do: Create the illusion they're living a rich life.
As long as they boost box office and don't bug us, why should anyone care about tweeters any more than we care about that guy who always sleeps through shows? Unless he snores, of course.