The book for novice reporters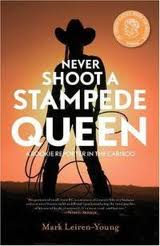 Would-be journos often ask what they should read to get a feel for the business and I always point to Never Shoot a Stampede Queen. Mark Leiren-Young's memoir of his first year as a reporter in B.C.'s Cariboo region won the 2009 Leacock Medal for humour, and it's a great primer on what it's really like to be a reporter. It belongs on the reading list at every school for ink-stained-wretches.
Mark's year at the Williams Lake Tribune was a news junkie's dream. While his pals interning on the big city dailies were assigned to cover that 65th wedding anniversary in the 'burbs, he was in cowboy country covering multiple homicides, train wrecks, and a court case involving a bomb-toting defendant.
Of course, he learned one sorry truth of the news business. You'll never get as much (hostile) attention for your work as when you run an unflattering photo of the local beauty queen.
I found the stories funny, touching, and horrifying – often all at once. And that is exactly what community news reporting is like.
Mark went on to be a film and TV writer who makes regular forays into theatre, and with Stampede Queen he just set out to tell good tales. But along the way he conveys everything a novice reporter needs to know about how to spot news, encourage interviews to talk, and handle the local biker gang. There's even a story on dealing with the goons your publisher hires to keep out the union.
For the record, Mark is an old pal. We've worked together in a number of places including the Georgia Straight and TheTyee.ca and I have ads for his books on my site. But that's not why I recommend Stampede Queen. I never flatter crap just to make someone feel good. What is this, kindergarten?