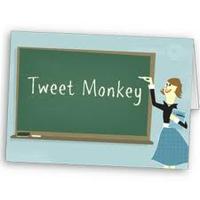 The New Yorker's entirely wonderful TV critic Emily Nussbaum just made the job of training tweet-monkeys infinitely easier with her brilliant one line description of what the best TwitterSpeak should be
"It's a way of speaking that lies between writing and conversation, intimacy and theatre."
That insight was hooked to a review of HBO's hot new show Girls, in which we see a character rewriting and editing a tweet about her personal angst, instead of delivering the sort of impulsive brainfart for which the medium is known.
It reminds me of good actors, who have learned how to reveal their most intimate selves in ways that engage an audience as no mere display of narcissism can. It may seem raw, but there are layers of artifice and craft in a good performance and I notice that many actors bring the same delicate techniques to their online personae. Even when their posts are mostly (if not entirely) self-serving they feel like a gift for the audience. It's true of both Hollywood actors and those who tread the boards on local stages.
In calling Twitter a form of theatre Nussbaum noticed what I've often observed but n'er said so well: actors are the masters of social media because updates are performances that only resemble interpersonal conversations. Most marketers don't understand this. Or publicists. Certainly not writers. Surprisingly, many performers are gaffe-prone in social media. Just as in real life, dancers are often indiscreet. And most broadcasters – whom we might expect to have a handle on this sort of thing – are among the worst. In tone, they either lecture us from on high or blurt TMI.
- Read more