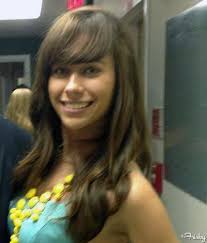 Perhaps the most surprising thing to come out of last week's delightful Deranged Sorority Girl episode of The Internet, was the students' confusion over this whole web communications thing.
Gawker posted the hilarious email anonymously, and it might have all ended after a day or so of snickering and reposting, had the Delta Gammas not demanded their good name be cleared. Loudly. On their (open) Facebook page.
"Someone has to get this taken down," they said, as if they'd never heard of the term gone viral. "It's very embarrassing for us."
Then they went on to publish many amusing details that Gawker was too discreet to run about the University of Maryland chapter, Becca's role in it, and dozens of other things. All of which made it easy for the interwebs to track down Rebecca Martinson, her photos, and her Twitter account. Sadly, that has been deleted. As many readers have noticed, she really does have a way with words. A psychotic, potty-mouthed way, but still.
- Read more