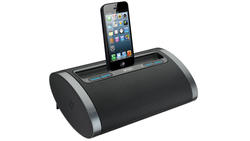 For decades now I've dismissed the pundits predicting the death of broadcast radio, or as they call it "terrestrial radio." Until this morning that is. On demand radio just killed terrestrial radio in my house.
I've always been a radio listener, particularly on Sunday mornings. But this morning I flicked on my kitchen radio only to be met with third-rate content from the CBC. It's Xmas week, so they're recycling pieces from earlier this year. But that's not the problem. A decade ago their documentaries were worth a second listen; now I often don't make it through a first one. This doc was typical of CBC's declining quality: a piece about online journalism that was woefully out-of-date and unsophisticated. Just irritating to listen to in its ignorance.
In another era I might have flipped to Radio 2 (if I wanted music) or surfed the dial. But the commercial radio offerings are so bad as to have reached the point my broadcasting instructors called "unlistenable." An ugly mix of artificially loud professional voices, dumb talk, idiot call-in shows, and/or cheezy music, all sandwiched between dense walls of commercials. I haven't listened to commercial radio in decades.
FIRE-UP THE iTHINGY
Instead, I fired up my iPad with an external speaker and listened online. First I caught the podcast of this morning's CBC national news, then I switched to a series of BBC and NPR public affairs podcasts to catch up on the international news. Then I moved on to some of my favourite indie podcasts.
I wanted a second listen of the final episode of Serial. Unlike the reporter Sarah Koenig, I do think Adnan is entirely innocent. You can't manage that kind of strangling murder and bury the body in a forest without some sort of physical evidence tying you to the body. There was nothing tying him to the crime other than the word of a drug dealer with a criminal record and a history of lying.
Personally, I still think Jay did it and his motive involved the silent Stephanie. Serial fans know what I'm talking about: the way Stephanie stood by a guy who admitted to burying the body of one of her close friends and hiding it until the cops called on him is no one's first choice in a boyfriend. Unless he did it to help her. - Read more